As signatories to the United Nations Global Compact, we reference the most widely used frameworks in the world to support our reporting efforts and align our corporate objectives with the global agenda for responsible development. 
THE UNITED NATIONS GLOBAL COMPACT AND SUSTAINABLE DEVELOPMENT GOALS
2020 marked the Decade of Action, the ten-year countdown that calls on us to accelerate sustainable solutions to improve the lives of the world's most vulnerable and the environment; poverty reduction, gender equality and climate change adaptation are just a few of the priorities. By 2019, the world was on track to meet some but not all of the goals, yet the pandemic delayed progress and disproportionately affected the most vulnerable households worldwide. This is why renewing our commitment to the UNGC and SDGs is so important, as they continue to mark  the critical path for business to achieve collective environmental and social objectives.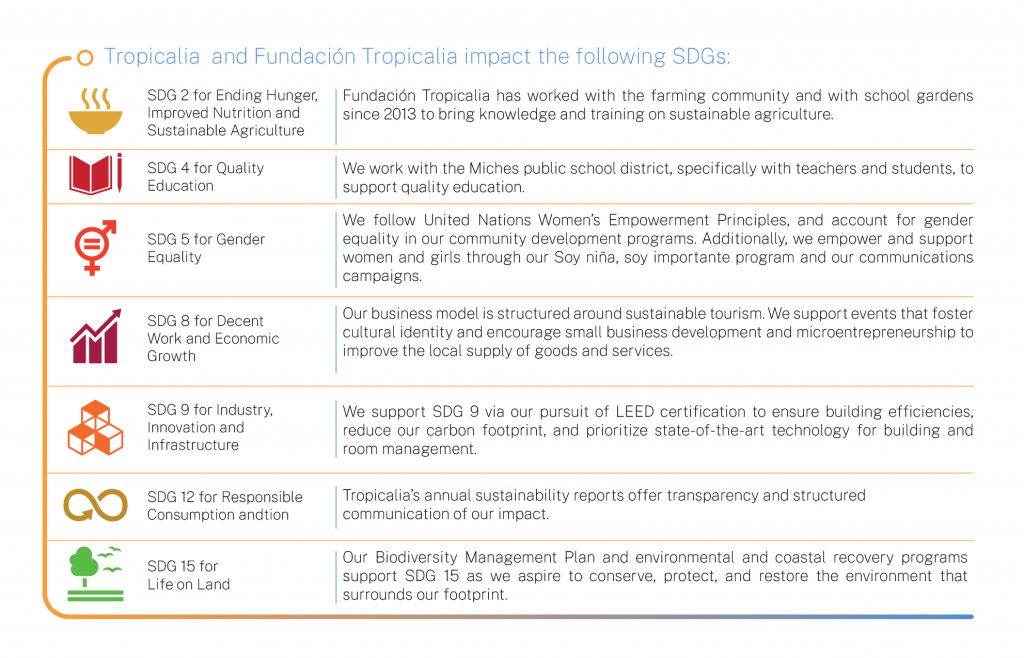 Global Reporting Initiative
This is our fifth year referencing the guidelines and disclosures established by the Global Reporting Initiative (GRI). GRI is an international independent organization pioneering sustainability reporting since the late 1990s (www.globalreporting.org).
As in prior years, our GRI content index references the G-4 GRI Sustainability Reporting Standards that were issued in 2016 and became fully effective in 2018.
Our report is self-assured and our index includes the GRI Standards that are material to Tropicalia, Fundación Tropicalia, and our industry. Our reporting period is from January to December of every year, and our reporting boundary includes the activities of everything that falls within the Tropicalia master-planned development, Fundación Tropicalia when appropriate, and the community we impact with our operations